Replacement Parts Industries, Inc
A LITTLE HISTORY - AN HCG COMPANY - ISO 9001 CERTIFIED - PLACING YOUR ORDER - CUSTOMER SERVICE - FAST DELIVERY - SATISFACTION GUARANTEED - PRODUCT CATALOG - QUANTITY PRICE BREAKS - TERMS OF SALE - PRODUCT UPDATES - ADDRESSES - PLEASE READ CAREFULLY - TRADEMARKS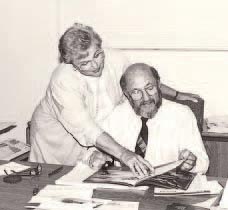 Since 1972, Replacement Parts Industries, Inc. has provided BMET's, clinical engineers, facilities personnel and independent service technicians with an alternate source for obtaining quality replacement parts for new and obsolete medical equipment, hospital equipment, dental equipment, and laboratory equipment.
We opened our doors in response to a growing need in the healthcare industry for a source other than the original manufacturer (OEM) to obtain quality replacement parts. But it is the wide selection of parts, excellent customer service, fair prices and loyal customers that have made RPI the success it is today.
RPI is in the parts business and only the parts business. We focus on one thing, and only one thing ... producing quality parts. We do not make, sell, or service equipment. We are not a broker or a distributor. We design and manufacture or directly source replacement parts for the healthcare industry. Our goal is to help you keep the equipment you service up and running.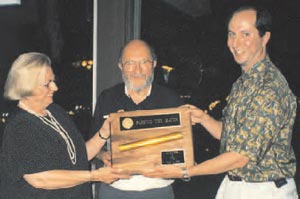 Our quality-engineered parts are manufactured to meet or exceed the original equipment manufacturer's specifications. In fact, we design quality into every part we produce. Our Product Development Team and Quality Control Department work together in every stage of the design, testing and manufacturing process to ensure quality performance from every RPI part.
We are proud to present our Quality Policy, so please take a moment to review our promise to our customers and our industry. Click here (PDF).
RPI has gained an international reputation for quality parts and unparalleled customer service. Professionals around the world who repair and maintain healthcare equipment have come to rely on RPI as the leader in replacement parts. Please contact us. We welcome the opportunity to show you why!
If you would like to read more about RPI, please click here (PDF).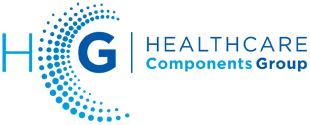 RPI is a Healthcare Components Group Company - Healthcare Components Group (HCG) is a network of world-class healthcare components and repair parts companies dedicated to the design, manufacturing, and supply of quality components and solutions for the healthcare industry. With almost 100 years of combined expertise serving the medical and dental industries, HCG's founding brands incorporate their vast knowledge, experience, and global connections to provide a wide range of components and solutions for the repair of mission critical medical and dental devices. HCG unites a network of healthcare component brands, American Optics-Endoscope Replacement Parts, Endoscopy Development Company, Micro Optics Europe, and Replacement Parts Industries, Inc. and our focus is to ease the effort of sourcing components and repair parts for the industry. For more information visit www.healthcarecomponents.com.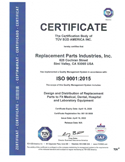 RPI is an ISO 9001 certified company. ISO Standards have been developed by the International Organization for Standarization, a worldwide agency that creates, through its technology committees, nationally and internationally recognized standards for many areas of business specilizations. To meet and maintain the rigorous ISO 9001 standards for quality in business has become a integral part of RPI's overall quality assurance program.
If you would like a copy of our certificate, please click here (PDF).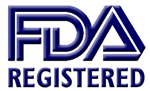 RPI's heating elements, skin temperature probes, and phototherapy lamps that fit various infant incubators and warmers are all FDA 510(k) registered. While the FDA does not normally regulate the production and use of OEM or second source replacement parts, they do require premarket notification known as a "510(k)" on some items. The heating elements, probes, and lamps providing therapy or direct diagnostic information are considered to be accessories to Class II devices – warmers and incubators. Therefore, 510(k)'s are required on these items. Submissions for a 510(k) consist of an evaluation of the device, technical background, testing information, and inspection information. If the item is similar to something already on the market, as RPI's component devices are, then the FDA requires a reference to these predicate devices in the 510(k), and substantial equivalence must be demonstrated. The FDA conducts regular inspections to ensure that RPI is adhering to the FDA's Quality System Requirements. RPI Registration #1000617661 and Owner Operator #10025749).

We make it easy for you to place your order:
On-line Order Form
Call us toll-free, (800) 221-9723 or (818) 882-8611.
Use our 24-hour Faxline (818) 882-7028
e-Mail us at order-simi@healthcarecomponents.com
Please see our Order page for more information.
You can be sure that your order will be handled professionally and accurately by our Customer Service Department. Should you need technical assistance, just ask for the Technical Service Department or submit your question using our Technical Assistance Request form. One of our engineers can help you find a repair solution.
Orders for parts in stock received by 2:00 PM (Pacific Time) will be shipped the same day...and you choose which freight method is best for you-Overnight, 2-Day, 3-Day or Ground delivery. Split shipments or drop shipments may be arranged.
Our parts must meet with your complete satisfaction. All RPI parts are manufactured to meet or exceed original equipment manufacturer performance requirements. Should any RPI part not meet with your complete satisfaction, please contact our Technical Service Department at (800) 221-9723 or (818) 882-8611 as soon as possible to obtain a Returned Merchandise Authorization (RMA) number prior to returning any part. We will gladly arrange an exchange or credit. (No parts may be returned without an RMA number and returned parts may be subject to a 15% restocking fee.)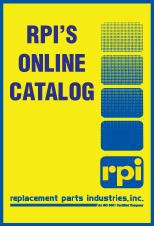 The RPI catalog is more than just a listing of parts. It's a work tool. Keep it handy and refer to it often. It can be accessed anytime, day or night! Click to view or download a PDF version of the Catalog.
The catalog is divided into different sections based on type of equipment so that you can go right to the parts you need. Illustrations and detailed descriptions are provided for each part to simplify identification. What's more, all of the O-ring and cross section illustrations are to actual size. Simply align the O-ring or cross section of a part directly on top of the illustration to check for a perfect match. It helps you to determine quickly which part you need.
Within each section, you will find the OEMs listed in alphabetical order. There's a handy Cross Reference at the beginning of each section that lists all of the parts we carry for each of the OEM models. It makes it easy to locate the parts you need. The price pages for the entire section are located at the end of each section.
Also included are several at-a-glance Reference Guides. They are helpful when you know what you need, but you don't have all of the information for a particular part.
And there's a section at the end of the catalog for you to keep all of the RPI newsletters, "The Alternate Source"®.
We offer quantity price breaks on most parts. Extra discounts can be obtained for larger quantity purchases. Just call us for prices on quantities of 100 or more. All prices shown in the RPI price lists are net prices and subject to change without notice.
Our minimum order is $20.00 and our terms are net 30 days for approved Open Accounts. VISA, MasterCard, and American Express are accepted. All new customers are required to complete a Credit Application and return the original copy to RPI (click here for a copy of the Credit Application). Shipping and handling is prepaid and added to the invoice. Past due invoices are subject to a late charge of 1-1/2% per month. Shipments are F.O.B. RPI Plant, Simi Valley, California. Returned checks are subject to a $20.00 charge. No allowances for shortages, overcharge or damage unless reported within 10 days from the invoice date. For our International customers (except Canada), we request payment in full in U.S. $ prior to shipping any order, and payment may be made by VISA, MasterCard, and American Express, or by a check drawn on a U.S. bank, international money order or bank wire transfer which is subject to a bank fee. For our U.S. Military customers: VISA, MasterCard, and American Express are accepted. RPI is U.S. Government SAM Registered: NSN #9S51901.
We continuously add new parts, so please watch for the RPI newsletter, "The Alternate Source"®, and the new catalog inserts that we distribute throughout the year so that you can keep your catalog up to date or check the WHAT'S NEW amd RPI NEWS! pages on our web site.
Please address all payment remittance to:
Replacement Parts Industries, Inc.
P.O. Box 713198
Chicago, Illinois 60677-0398
Please address all other correspondence to:
Replacement Parts Industries, Inc.
625 Cochran Street
Simi Valley, California, 93065
Contact RPI at our e-mail addresses:
Seller makes no warranty of any kind, express or implied, except that the products sold from the RPI catalog or this website shall be of merchantable quality, and buyer assumes all risk and liability resulting from the use of these products, whether individually or in combination with other products. All parts shown in the catalog or on this website are manufactured or supplied by Replacement Parts Industries, Inc. to be used as replacement parts for original equipment. Replacement Parts Industries, Inc. neither manufactures nor distributes any machines used by healthcare professions. Our liability is limited to the cost of the defective RPI part.
All rights reserved. No part of this WEB SITE may be reproduced or utilized in any form or by any means without permission in writing from the Publisher. Inquiries should be addressed to: Replacement Parts Industries, Inc., Marketing Department, P.O. Box 940250, Simi Valley, California 93094.
The following are Registered Trademarks according to the "Health Devices Sourcebook," 1996 Edition, ECRI, Plymouth Meeting, PA and other sources.
Amscomatic, AMSCO International Inc
Auquaclave, MDT Biologic, Co
Autocrit, Becton Dickinson
Cascade, A-dec Inc
Castle, MDT Corp
Chemiclave, MDT Biologic, Co
Clay Adams, Becton Dickinson and Co
Decade, A-dec Inc
Dent-X, AFP Imagining Corp
Dynac, Becton Dickinson and Co
Eagle, AMSCO International Inc
Gomco, Allied Healthcare Products Inc
Harvey, MDT Corp
Hustler, Pelton & Crane Co
ICS, Beckman Instruments Inc
Kwiklave, Tuttnauer USA Co Ltd
M7 Speedclave, Midmark Corporation
Magna-Clave, Siemens/Pelton & Crane Co
Mark 7, Bird Products Corp
Medallion, AMSCO International Inc
Microfuge, Beckman Instruments Inc
Midmark, Midmark Corp
OCM, Pelton & Crane Co
OCR, Pelton & Crane Co
Omni Clave, Pelton & Crane Co
Peri-Pro, Air Techniques Inc
Prisma, Dentsply Caulk Div Dentsply International Inc
Prisma-Lite, Dentsply Caulk Div Dentsply International Inc
QBC, Becton Dickinson and Co
Readacrit, Becton Dickinson and Co
Sanborn, Hewlett-Packard Co Medical Products Group
Sero-Fuge, Becton Dickinson and Co
Triac, Becton Dickinson and Co
Tuttnauer, Brinkmann Instuments Inc
Validator, Siemens/Pelton & Crane Co
Yankee, Becton Dickinson and Co