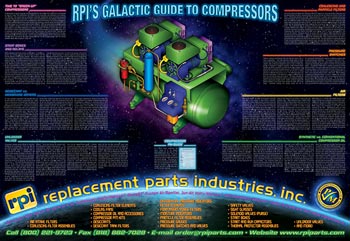 "RPI's Galactic Guide to Compressors"
The 2014 Planned Maintenance Poster is here!RPI's Galactic Guide to Compressors is a colorful tribute to the compressors that are found in many hospital, medical, and dental facilities. Explore the many aspects of the compressor and learn how scheduled planned maintenance can help keep your machine running like new. Discover the difference between Desiccant and membrane dryers, comprare synthetic vs. conventional compressor oil, explore coalescing and particle filters, pressure switches, air filters, start boxes, relays, unloader valves and more!
To obtain a poster, please use our Poster Request Form.
Available to qualified businesses*, while supply lasts. Offer void where prohibited.

*Service and Support facilities, Hospitals, Laboratories, Blood Blanks, Military Bases, Manufacturers, Distributors or Businesses with ongoing planned maintenance requirements for healthcare equipment.